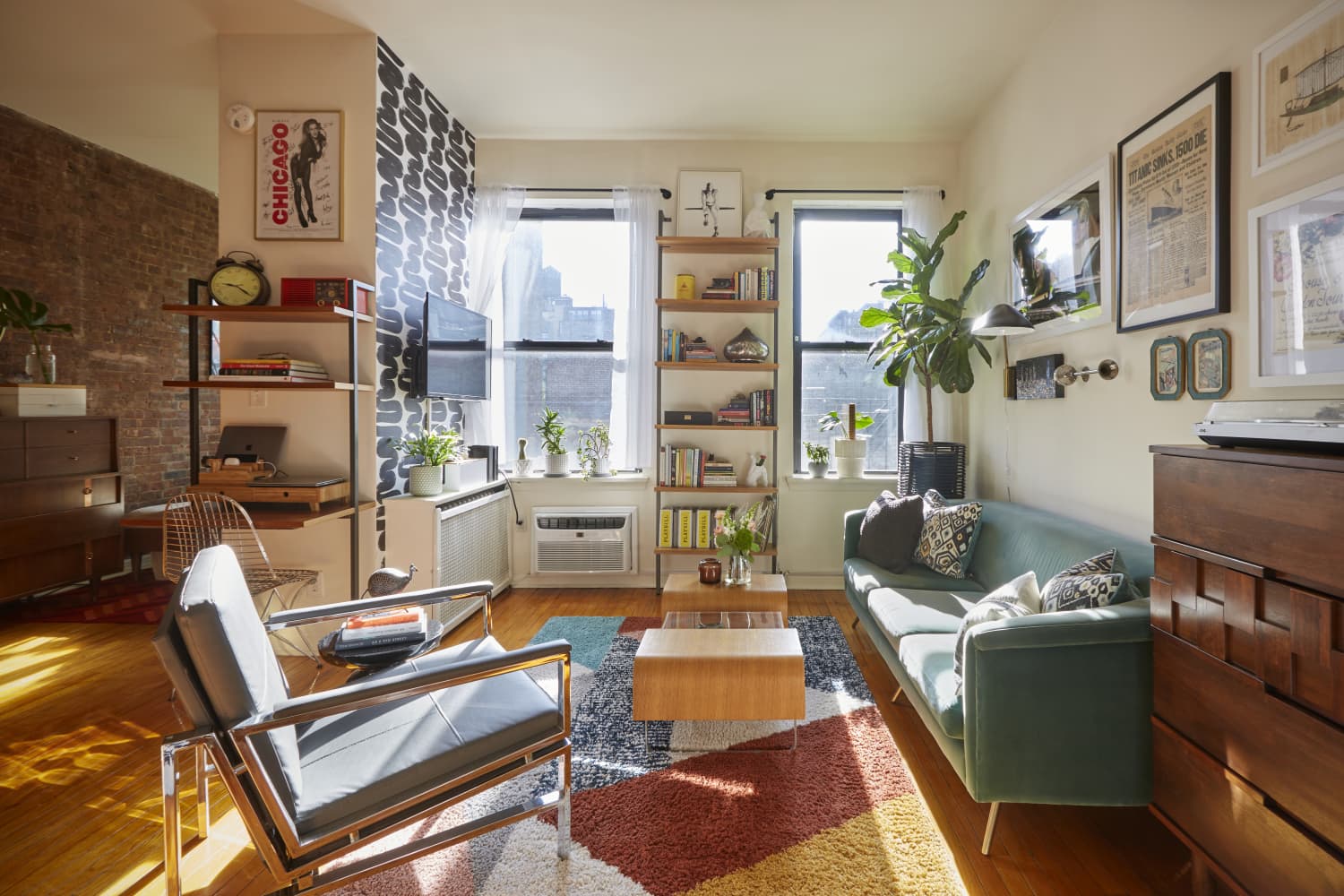 For more content like this follow
But they weren't sold on it right away. "Trevor and I had a list of 'must haves' and even brought our own measuring tape," Kolaczkowski, a designer, says. "I walked around the apartment huffing and puffing, measuring, and quickly realized it would be a big challenge to furnish this place. The bed barely fit in the alcove. The storage was small and underwhelming. And it was a fifth-floor walkup!"
Decorating challenges necessitated innovative solutions, like the use of a mid-century inspired bedroom set in the living room as opposed to the bedroom. "Once we moved in and got creative, we fell in love with the place," Kolaczkowski reflects. "The size was our biggest challenge. Two grown men living in 300 square feet and only two small closets is a challenge. It look a lot of measuring, a little bit of luck, and compromising on space."
Since the bedroom alcove didn't have room for two dressers and two nightstands, some of those pieces had to find a home in the living area. On first glance, you might miss the nightstands and dresser, since they blend in so seamlessly. But take another look, and you'll see these pieces hiding in plain sight.
The couple cleverly repurposed one of the nightstands as a side table next to the sofa in the living room, which is the perfect place to set down a drink or a book when the coffee table is out of reach. This piece is also home to a lush fiddle leaf fig, which properly fills the corner, thanks to the little lift it gets from the table.
On the other side of the couch, a full-sized dresser ensures there's enough storage space to go around, standing tall with a decorative lamp and a record player. Finally, like the first nightstand, the second bedside table, propped next to the breakfast bar seating, is also giving a snake plant extra height. Even more importantly, this table acts as extra storage and fills that small-but-useful slice of space between the doorways to the entry and the kitchen.
While Kołaczkowski and Kuhn placed these pieces in their living area out of necessity, swapping your typical console for a dresser and side table for a nightstand could help you eke out a little bit more storage in your living room, too (even if you have space for clothing and beside storage in your bedroom). If you live in a small space, those extra drawers and doors could be just what you need to keep your place looking pulled together.