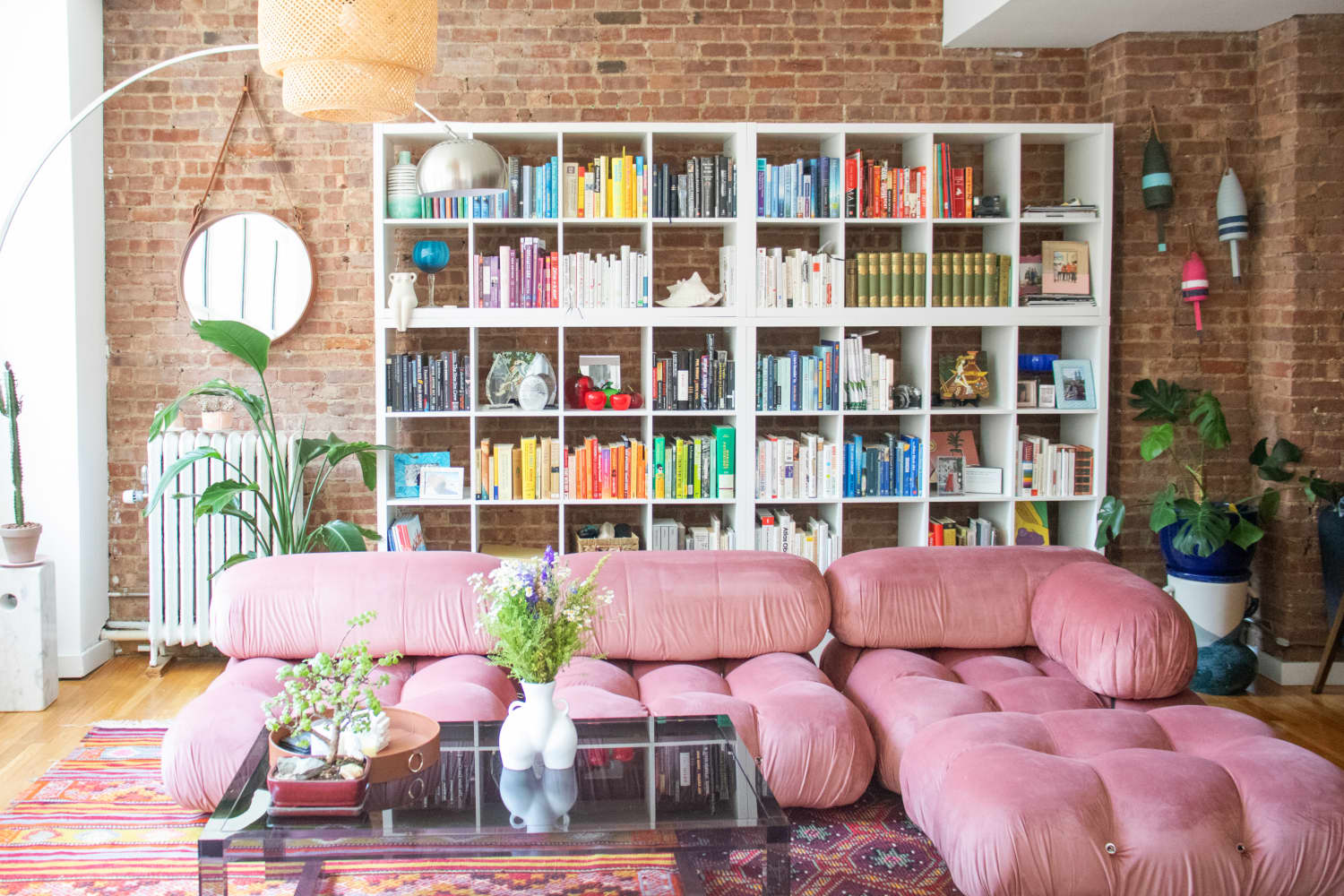 We independently select these products—if you buy from one of our links, we may earn a commission. All prices were accurate at the time of publishing.
A collection of books is not just a beloved selection of titles to turn to, lend to friends, and reminisce over, it's also a simple way to decorate a blank wall or add some instant personality to your home. But if you're an avid reader, you likely know that fitting your collection into a new home can be a challenge, depending on how large or small your space is. Some homes are begging for an over-the-top rainbow-coordinated set of shelves, others have little nooks and crannies perfect for stashing a select bunch of books, and others still require somewhat unorthodox solutions to fit all your faves in. Some of the best ideas I've seen for book storage come from house tours, so I've collected 10 of the most creative, small-space friendly, and impressive book displays we saw this year below.
For more content like this follow
Jamie and Mike's 750-square-foot Chicago apartment is filled with over 1,000 books, which means they had to get creative about where to store them. Here, in their living room, they've stashed a number of books inside the unused fireplace, in a built-in cabinet, and a slim, freestanding bookshelf. This is proof that even if you don't have room for a massive set of bookcases, you can display your books with pride.
New York-based writer, comedian, and award-winning screenwriter Greg Mania rents this 700-square-foot apartment in Brooklyn, which is also host to hundreds of books. Of course, he has books throughout the apartment — stacked under the TV, on the coffee table, on floating shelves, but the most impressive display is the two towering stacks against the windows, achieved with these super low profile bookcases. "My home is basically just a storage unit for my books," Greg says, "even the kitchen! There's over a hundred books lined up above the kitchen cabinets. Between work and pleasure, I amass a lot of books every year, so it's all about organizing them in a way that's pleasing to the eye, but also sustainable."
Sure, we've seen plenty of bookshelves in living rooms and bedrooms, but the dining room is fair game for displaying your books, too. Lauren Park and her partner Kevin share this 700-square-foot rental apartment in Toronto's Cabbagetown neighborhood, and Lauren's job in publishing (read: love of books!) is seen throughout the space. She's employed IKEA's ever-classic BILLY bookcases, and organized them by color with lots of covers facing out to display favorite or particularly titles.
Speaking of the IKEA BILLY, these side-by-side bookcases in Maggie and Jesse's Brooklyn apartment might appear like just one collection, but they're actually two separate ones. "We're both big readers," Maggie says, "but the bookshelves are very his and hers. He's got gobs of musician biographies and plays and I love my art books and modernist novels and poetry. We sometimes ransack the other's shelves when we need to broaden our horizons."
Some alphabetical-by-author purists would shudder at the idea of sideways books on display, but you can't deny the perfectly balanced styling of this vintage trunk in Tessa Muga and Román Macià's Barcelona apartment. The coordinating hues of the pages don't overwhelm their beachy-neutral space, plus, the spines are still visible from the left hand side.
Sure, you could perfectly style your mantel with matching candlesticks and vases of eucalyptus, but you could also make use of that built-in shelf as book storage. Since Katie Rogers only has 450 square feet to work with in her Harlem apartment, she has amassed books and treasures on the mantel. "I absolutely love the fireplace," she says, "it was what really sold me on the apartment and brings a lot of majesty and sophistication to the space. It's a great place for my books, small keepsakes, and old pictures of my family."
There is truly no limit to what IKEA's KALLAX can do, whether it be as a room divider, closed storage, or as a traditional cubby hole unit. Here in their NYC loft, Michelle Pham and Akshay Kumar stacked four KALLAX units to create an entire book wall along the back of their living room. "We love reading and needed a bookcase," Michelle says, "but lumber prices were sky high in 2021, and we weren't able to find a large bookcase unit that would deliver quickly enough. We stacked four IKEA KALLAX shelves together to create a large bookcase section, and color-coded our books for a colorful aesthetic. The bottom row of the bookcases have IKEA KALLAX insert doors attached to them for extra hidden storage."
Two hundred square feet is certainly one of the smallest footprints one apartment can take up, which means that there was little room for Bailey Heldmar to store her book collection in her Upper West Side studio. Instead of taking up precious real estate with a bookshelf, Bailey squirreled books away into the fireplace, above her bed, and wherever she had a bit of extra space. "My mom instilled my love of reading," Bailey recalls, "and was always telling me that I'd move to New York someday. I brushed her off then, but now I often think that the home I've created here — bursting with books — is exactly what she was picturing for me."
Home to a family of five, this NYC apartment is only 600 square feet, so there was really only one logical place to store a book collection: the living room walls. Heather and Michael mounted shelves from Burrow — one large one against the main wall and one small one against the other — to create a custom unit that fits their space perfectly and houses a ton of books.
10. Built-In Shelves with Double Access
Remember how we said KALLAX can basically do anything? Here's more proof. In his small Chicago condo, Scott Kangas actually had his KALLAX bookshelf mounted inside the wall, so everything is accessible from the entryway as well as the bedroom. "When the developer was rehabbing the space," Scott says, "I asked him if he could build my existing IKEA bookcase right into the wall between my kitchen and bedroom, I drew him a diagram on a napkin and he agreed. It's accessible from both sides and is deep enough for a double row of books, much needed by me."